Welcome to Lake George
Photo: Pollutants swirl in waters that have flooded New Orleans.
[Note: This diary is being re-published in honor of the pending anniversary of Katina as a new hurricane heads into the Gulf of Mexico. Also fixed links that had gone stale, and added some comments at the end about some of the "fixes" provided by corrupt republican contractors, who all seem to somehow be friends of Jeb Bush - the President's brother.]
My Aunt & Uncle live in Florida, so every time there's a report of a hurricane heading toward them, I start paying extra attention to the weather reports.
When Hurricane Katrina first reached hurricane proportions, I did the usual.
Friday
When Katrina passed over the southern edge of Florida, killing 3, and seemed ready to head up the coast, I kept paying attention. It was getting bigger, stronger, and scarier.
Then it looked like it might head toward New Orleans, a city built in the ideal shipping location back in the 1700's, when shipping was
the
primary transport mechanism for the world.
As time went by, New Orleans became a prime shipping hub - taking exports from the US and bringing imports to the US. That region of the Gulf of Mexico also turned into the source of roughly 1/3 of the oil-based energy supplies for the United States, home to wells, refineries, and pipelines to supply a continent.
Saturday
The cone of probability for landfall had narrowed, projecting Katrina to land very near New Orleans, if not right on top of the city. A major threat loomed. Hurricane Katrina, force of nature, bore down on the Gulf coast. And still she grew.
Sunday
When Sunday rolled around, Katrina had become a monster as large as the worst storms ever to make landfall in the US.
I instant-messaged a friend who has been involved in the past with a disaster relief team, comprising military and civilian organizations, to see if there was anything I could do to help. The team hadn't started anything related to the predicted landfall area. Note, this is the same day the following advisory was provided by the New Orleans branch of the National Weather Service:
URGENT - WEATHER MESSAGE NATIONAL WEATHER SERVICE NEW ORLEANS LA 1011 AM CDT SUN AUG 28 2005

...DEVASTATING DAMAGE EXPECTED...

.HURRICANE KATRINA...A MOST POWERFUL HURRICANE WITH UNPRECEDENTED STRENGTH...RIVALING THE INTENSITY OF HURRICANE CAMILLE OF 1969.

MOST OF THE AREA WILL BE UNINHABITABLE FOR WEEKS...PERHAPS LONGER. AT LEAST ONE HALF OF WELL CONSTRUCTED HOMES WILL HAVE ROOF AND WALL FAILURE. ALL GABLED ROOFS WILL FAIL...LEAVING THOSE HOMES SEVERELY DAMAGED OR DESTROYED.

THE MAJORITY OF INDUSTRIAL BUILDINGS WILL BECOME NON FUNCTIONAL. PARTIAL TO COMPLETE WALL AND ROOF FAILURE IS EXPECTED. ALL WOOD FRAMED LOW RISING APARTMENT BUILDINGS WILL BE DESTROYED. CONCRETE BLOCK LOW RISE APARTMENTS WILL SUSTAIN MAJOR DAMAGE...INCLUDING SOME WALL AND ROOF FAILURE.

HIGH RISE OFFICE AND APARTMENT BUILDINGS WILL SWAY DANGEROUSLY...A FEW TO THE POINT OF TOTAL COLLAPSE. ALL WINDOWS WILL BLOW OUT.

AIRBORNE DEBRIS WILL BE WIDESPREAD...AND MAY INCLUDE HEAVY ITEMS SUCH AS HOUSEHOLD APPLIANCES AND EVEN LIGHT VEHICLES. SPORT UTILITY VEHICLES AND LIGHT TRUCKS WILL BE MOVED. THE BLOWN DEBRIS WILL CREATE ADDITIONAL DESTRUCTION. PERSONS...PETS...AND LIVESTOCK EXPOSED TO THE WINDS WILL FACE CERTAIN DEATH IF STRUCK.

POWER OUTAGES WILL LAST FOR WEEKS...AS MOST POWER POLES WILL BE DOWN AND TRANSFORMERS DESTROYED. WATER SHORTAGES WILL MAKE HUMAN SUFFERING INCREDIBLE BY MODERN STANDARDS.

THE VAST MAJORITY OF NATIVE TREES WILL BE SNAPPED OR UPROOTED. ONLY THE HEARTIEST WILL REMAIN STANDING...BUT BE TOTALLY DEFOLIATED. FEW CROPS WILL REMAIN. LIVESTOCK LEFT EXPOSED TO THE WINDS WILL BEKILLED.

AN INLAND HURRICANE WIND WARNING IS ISSUED WHEN SUSTAINED WINDS NEAR HURRICANE FORCE...OR FREQUENT GUSTS AT OR ABOVE HURRICANE FORCE...ARE CERTAIN WITHIN THE NEXT 12 TO 24 HOURS.

ONCE TROPICAL STORM AND HURRICANE FORCE WINDS ONSET...DO NOT VENTURE OUTSIDE!
Monday
On Monday, that storm hit land. One of the levees that protected New Orleans failed, turning the city into a lake. The Americans who could not evacuate without help had been herded into last-ditch shelters, hastily arranged by Mayor Nagin when he realized that the President would not give the order that would allow the military to help get them out of the city.
The President remained on vacation, ignoring his responsibilities in a time of national crisis:
Though, to be fair, he did manage to squeeze in a couple minutes for a teleconference about Katrina, on his way to a pair of
staged photo ops
designed to sell ANOTHER Medicare prescription drug option - where our grandparents will pay only $20/month, on top of a $250 deductible (up to $2,500 for the year), for their drugs. A bargain!

Press Gaggle with Scott McClellan and Dr. Mark McClellan
Aboard Air Force One
En Route Glendale, Arizona

10:43 A.M. CDT

...

MR. McCLELLAN: Yes, from the plane. We have video conferencing capability on the plane.

Q Is the President --

MR. McCLELLAN: I don't know if he'll be participating, but I'll try -- I'll keep you posted if he does. I think there is a little bit more of a staff participation in this call. This is something the White House has been doing both from D.C. as well as from Crawford over the last few days. We've been participating in these video conference calls with the federal authorities and with state emergency management operation centers.

...
The President also managed to find some time for a "Let me eat cake" moment in Arizona:
After all, joking with old folks about how you plan to rip them off, and talking on the phone for a few minutes is hard work! Much harder than
gutting every program
that could have reduced the magnitude of this disaster, systematically, for years.
Tuesday
On Tuesday, a second levee gave way. The Red Cross and Salvation Army were prepared to provide supplies to tens of thousands of people trapped in the lake of sewage, bodies, and pollutants that had once been a beautiful city.
They were ordered by National Guard to stay out.
The state Homeland Security Department requests--and continues to request--the American Red Cross not come back into New Orleans following the hurricane. Our presence would keep people from evacuating and encourage others to come into the city.
If supplies came to the people, the people wouldn't leave. Think about how ludicrous that statement is:
A bottle of clean water would make the victims choose to hang out in a putrid pool of urine, feces, poisonous chemicals, and dead bodies instead of seeking clean dry shelter someplace else.
They seemed to believe it best for a mother to hold her starving, dehydrating baby until its cries, and then its breathing, stopped. That it would be best for the elderly and disabled to die for lack of medications. That thousands should die waiting for the rescue that would never come, in a city that had been put under martial law, so they couldn't leave on their own.
They doomed thousands of Americans - entire families - to suffer and die needlessly, in direct contradiction of federal regulations, as described in the Department of Homeland Security's National Response Plan section on
Implementation Mechanisms for Proactive Federal Response to Catastrophic Events
[PDF - see page 43], signed by Donald Rumsfeld, Secretary of Defense; Spencer Abraham, Secretary of Energy; and Marsha Evans, Director of the Red Cross; among others :
Implementation of Proactive Federal Response Protocols

Protocols for proactive Federal response are most likely to be implemented for catastrophic events involving chemical, biological, radiological, nuclear, or high-yield explosive weapons of mass destruction, or large magnitude earthquakes or other natural or technological disasters in or near heavily populated areas.

Guiding principles for proactive Federal response include the following:


The primary mission is to save lives; protect critical infrastructure, property, and the environment; contain the event; and preserve national security.

Standard procedures regarding requests for assistance may be expedited or, under extreme circumstances, suspended in the immediate aftermath of an event of
catastrophic magnitude.

Identified Federal response resources will deploy and begin necessary operations as required to commence life-safety activities.

Notification and full coordination with States will occur, but the coordination process must not delay or impede the rapid deployment and use of critical resources.

States are urged to notify and coordinate with local governments regarding a proactive Federal response.

State and local governments are encouraged to conduct collaborative planning with the Federal Government as a part of "steady-state" preparedness for catastrophic incidents.



Meanwhile, the President's day was full of Important Government Business, like this photo op, which shut down Coronado Naval Hospital at the North Island naval Base in California, forcing all civilian patients, including chemotherapy patients, to reschedule their appointments for a later date.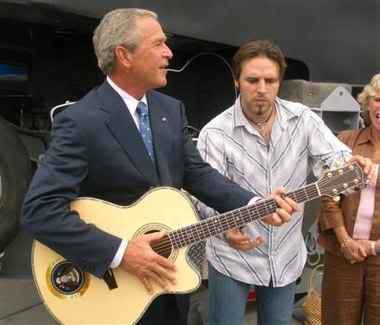 But, heck,
at least he got to play his new guitar
after all that hard work.
Also on Tuesday,
firefighters with oil infrastructure expertise arrived, and were turned away
:
Bill is a member of a volunteer firefighter team in the Houston area. He and his team have a lot of experience helping after hurricanes. And they also have special expertise -- a lot of them work for a living on oil infrastructure and repairs. Bill is a professional logistics expert whose assignments have included getting a client's tsunami-flattened distribution facility back operating within a couple of weeks, and pre-invasion logistics work in Kuwait.

On Monday night, his group assembled their rescue equipment and tools, and packed them into their boats along with all the emergency supplies they could carry. By Tuesday morning, they were almost to New Orleans. "We were stopped at gunpoint by FEMA and told to turn back," he told me. When I asked, he clarified that they did not point the guns at them, but they were carrying and displaying their weapons.

FEMA told him that no one was allowed to enter the city to help "until it was secured by the National Guard." The Houston team asked if they could wait. The FEMA staff told them yes, but that they shouldn't expect anything to change.

So they set up camp in the parking area where they had been stopped, and they waited. By Thursday night, when they were still waiting in the same place, some of the team returned to Houston. The rest decided to wait longer. And still nothing changed, so the remaining team members returned to Houston on Saturday night.

Needless to say, Bill is livid about this. I asked him why they had not been sent to some of the other communities in the hurricane-stricken area where security was not as much of an issue.

"We asked," he told me, "but they said that our expertise was more needed in the New Orleans area." The fucking catch-22 -- they were needed in New Orleans, so they weren't allowed to go elsewhere, but they weren't allowed to go into New Orleans, so the upshot was that they did nothing except sit and wait, and then go home in frustration.
In a similar vein, WalMart sent tractor trailer loads of bottled water.
They were turned back.
One man, the head of emergency management for Jefferson Parish, kept receiving calls from his mother in her nursing home, asking when the rescuers would arrive. Each time, he told her she would be rescued the next day.
Wednesday
On Wednesday, the President was still on vacation, but he had decided that maybe he could "
cut it short"
, starting on Thursday.
Not much new going on - stranded people dying, the city under lockdown. People reaching unbelievable levels of desperation stealing water, food, and diapers. Others losing it altogether, looting whatever they can get their hands on.
One man, enraged over being left behind by a rescue helicopter, shoots at it.
Suspending the helicopter rescues at the Superdome, a spokesman for the Louisiana ambulance service told the BBC the crowd had grown unruly and he was concerned for the safety of his staff.
Gangs take over the city at night.
The man's mother was still in her nursing home, calling and being told "tomorrow."
Thursday
On Thursday, the President decided that he was finally ready to play "Rescue President." He gave the orders for the military to provide aid and worked with his handlers to prepare for the next day's photo op.
The looting and mayhem among the abandoned had reached phenomenal proportions. A
shoot-to-kill
order was given:
A large cloud of acrid, black smoke is drifting over New Orleans following Friday's blast along the Mississippi riverfront.

The incident in the already crippled city came after Louisiana's governor said 300 "battle-tested" National Guardsmen were being sent to quell the unrest.

"They have M-16s and are locked and loaded. These troops know how to shoot and kill and I expect they will," Kathleen Blanco said.
The man's mother was still in her nursing home, calling, and being told, "tomorrow."
Friday
On Friday, the President got gussied up, went over to a levee-repair stage set, and said some pretty words to the camera about how help was on the way. Then the camera crews cleared out - and so did the repair crew. The
levee was left to continue flooding the city
:
"But perhaps the greatest disappointment stands at the breached 17th Street levee. Touring this critical site yesterday with the President, I saw what I believed to be a real and significant effort to get a handle on a major cause of this catastrophe. Flying over this critical spot again this morning, less than 24 hours later, it became apparent that yesterday we witnessed a hastily prepared stage set for a Presidential photo opportunity; and the desperately needed resources we saw were this morning reduced to a single, lonely piece of equipment. The good and decent people of southeast Louisiana and the Gulf Coast - black and white, rich and poor, young and old - deserve far better from their national government.

"Mr. President, I'm imploring you once again to get a cabinet-level official stood up as soon as possible to get this entire operation moving forward regionwide with all the resources - military and otherwise - necessary to relieve the unmitigated suffering and economic damage that is unfolding."
The Red Cross and Salvation Army still were not allowed in.
The firefighters still were not allowed in.
Clean water was still being turned away.
The mother, who had called her son over and over, asking when help would arrive, drowned in her nursing home (video:
WMV
,
QT
. it was one "tomorrow" too late.
[from Think Progress]Andre Broussard, President of Jefferson Parish in New Orleans, put it most clearly in the following exchange on Meet the Press:

RUSSERT: You just heard the director of homeland security's explanation of what has happened this last week. What is your reaction?

BROUSSARD: We have been abandoned by our own country. Hurricane Katrina will go down in history as one of the worst storms ever to hit an American coast. But the aftermath of Hurricane Katrina will go down as one of the worst abandonments of Americans on American soil ever in U.S. history. … Whoever is at the top of this totem pole, that totem pole needs to be chainsawed off and we've got to start with some new leadership. It's not just Katrina that caused all these deaths in New Orleans here. Bureaucracy has committed murder here in the greater New Orleans area and bureaucracy has to stand trial before Congress now.

...

Three quick examples. We had Wal-Mart deliver three trucks of water. FEMA turned them back. They said we didn't need them. This was a week ago. FEMA, we had 1,000 gallons of diesel fuel on a Coast Guard vessel docked in my parish. When we got there with our trucks, FEMA says don't give you the fuel. Yesterday - yesterday - FEMA comes in and cuts all of our emergency communication lines. They cut them without notice. Our sheriff, Harry Lee, goes back in, he reconnects the line. He posts armed guards and said no one is getting near these lines"…

...

I want to give you one last story and I'll shut up and let you tell me whatever you want to tell me. The guy who runs this building I'm in, Emergency Management, he's responsible for everything. His mother was trapped in St. Bernard nursing home and every day she called him and said, "Are you coming, son? Is somebody coming?" and he said, "Yeah, Mama, somebody's coming to get you." Somebody's coming to get you on Tuesday. Somebody's coming to get you on Wednesday. Somebody's coming to get you on Thursday. Somebody's coming to get you on Friday"… and she drowned Friday night. She drowned Friday night! [Sobbing] Nobody's coming to get us. Nobody's coming to get us. The Secretary has promised. Everybody's promised. They've had press conferences. I'm sick of the press conferences. For god's sakes, just shut up and send us somebody.

Saturday
On Saturday, the Red Cross and Salvation Army still were not allowed into the city. Nursing homes had still not been evacuated.
The First Lady attended a
staged photo-op
in the relatively pristine shelter at the Cajun Dome, in Lafayette - well outside the city.
As part of the event, the Secret Service commandeered the shelter's communications room, stopping a group that was building a web site that would have provided directions to all Red Cross shelters in the area. This room was the only means the people in the shelter had of contacting the outside world. The Secret Service event shut down the kitchen. For 8 hours. In the middle of that time, the First Lady handed some bread to a few people who would have been fed actual meals had she not caused the kitchen to be shut down. Others would have been fed, too, but the image of handing out the loaves for the cameras was more important. It was sort of an anti-parable: where Christ fed 4,000 with a few loaves, the First Lady made thousands hunger so she could get a few photos.
On Sunday, the Red Cross and Salvation Army still were not allowed into the city.
The firefighters had gone home in disgust. Nursing homes had still not been evacuated.
People continued to die.
Monday
The Convention Center and Superdome have finally been evacuated. It took the federal emergency response apparatus a week to clear 2 buildings. Too bad we don't have any newfangled equipment and communications capabilities to make the job easier,
like they did in 1906
.
The rest of the city is being evacuated. They're collecting the living, one at a time. Once they call it quits on rescue, they'll start recovery of the dead. As Lt. Gen. Honore
puts it
:
"Every house that's flooded right now we have to go in and see if there's anybody in it and God forbid take those who didn't make it. Every building, every room."
The President and his administration have the gall
to blame those
who had to fight against the
incompetent lackeys he put in place at FEMA
and
Homeland Security
for the inexcusable, even criminal lack of response:
Senator Mary Landrieu, the Democrat of Louisiana (whose father was a mayor of New Orleans), appears to have finally found her voice after offering only cautious criticism of the federal relief effort in the hurriance catastrophe earlier in the week. Today she promised to literally "punch" anyone, "including the president," who contnued to question the local response to the tragedy, considering the gross federal misconduct.

Appearing on ABC's "The Week" TV program this morning, Senator Landrieu still appeared to be smarting from President Bush's comments, during his national radio address, that state and local bore a fair share of blame for the slow response. On a copter tour of the area, Landrieu said that if she heard any more criticism from federal officials, particularly about the evacuation of New Orleans, she might lose control.

"If one person criticizes them or says one more thing - including the president of the United States - he will hear from me," she said on the ABC program. "One more word about it after this show airs and I might likely have to punch him. Literally."

The President who didn't give the orders. The President whose inaction brought pain, death, and disease to thousands who had given him their trust. The President who treated the agencies that should have been ready to help on a moments notice like personal patronage clubs. The President who allowed the energy infrastructure of our country to be left unprotected by cutting the funding for the water control systems that could have left New Orleans standing. The President who sent one of every 3 Louisiana National Guardsmen to fight an illegal, unjst war against innocent civilians, in the desert - with all of the amphibious vehicles. The President, who lowered the flag to half mast when Judge Rhenquist died, but could not summon enough respect for the dead of Katrina to lower the flag for them.
The Rescue President, a new role brought to you by the War President - a man who could get neither right.
Update August 30, 2008

Bad pumps to pump water out of the canal system:


From Reading Eagle Press 8/28: Levees protecting eastern New Orleans and St. Bernard Parish are in many stretches 10 feet lower than what the corps would like them to be, Turner said.

Another concern is a new system of pumps and floodgates on three drainage canals. Floodwalls on two of the canals collapsed during Katrina, causing widespread flooding in central New Orleans.

The corps installed the new system to prevent storm surge from entering the canals, but some of the pumps have been plagued with problems. They were defective when they were installed in 2006 and doubts persist about the corps' overall engineering solution.





From CBS News: The drainage canal pumps were custom-designed and built under a $26.6 million contract awarded after competitive bidding to Moving Water Industries Corp. of Florida. The company was founded in 1926 and supplies flood control and irrigation pumps all over the world.

MWI is owned by J. David Eller and his sons. Eller was once a business partner of former Florida Gov. Jeb Bush in a venture called Bush-El that marketed MWI pumps. Eller has donated about $128,000 to politicians, the vast majority of it to the Republican Party, since 1996, according to the Center for Responsive Politics.

MWI has run into trouble before. The Justice Department sued the company in 2002, accusing it of fraudulently helping Nigeria obtain $74 million in taxpayer-backed loans for overpriced and unnecessary water pump equipment. The case has yet to be resolved.



And there's no telling how many of the levees themselves were properly constructed. It's certain that at least one wasn't going to be - until the contractor was caught. They had filled the joints between cement barriers with paper instead of the rubber foam sealant that should be there:


From World Net Daily:
New Orleans CBS affiliate WWL-TV visited a section of floodwall in St. Bernard Parish with a resident who asked not to be identified and who showed the news crew a section of floodwall where he had observed the contractor filling the openings between the walls with newspaper during repairs in 2006.

"

The whole length of the wall was stuffed with newspaper

," the resident said.

...

"It's like putting a Band-Aid on the hole of a gas tank of an airplane," the resident said.